This post brought to you by Revlon. All opinions are 100% mine.
I am so excited about this NEW series!
Today we're talking about taking a chance, and doing something different with your makeup! It's amazing about what a woman can accomplish when she feels good about herself.  Revlon is kicking off our new "Make ME Over" series with the Revlon Expression Experiment.  I took this challenge, and had a lot of fun with my make-up!  I want to extend this challenge to you as well!
I know that most of us get stuck in make-up ruts.  Revlon is encouarging us to break out of that rut and try something totally different.  Here's how I broke out of my rut and got bold with some new looks:
1:
I'll admit – when I first saw these colors, I panicked a little bit inside.  I thought they were super wild and wouldn't look pretty.  I used the "inspired" color palette:
I actually put it on my sister because I thought her brown eyes would work out better with the colors than my green eyes.  I was super surprised to see that the colors did NOT look nearly as bright on her eyes as they looked in the palette, and they looked surprisingly pretty!  We paired it with a soft lip color and I thought she looked gorgeous!
See?  Totally not scary at all
2:
I usually play it safe with my nails.  I got a little nervous about using orange…but I stepped out of my rut and tried it anyway!  This color is Revlon's "Sorbet", but there's so many other bright nail polish colors you could choose from!
I can't say it's the right shade for my skin shade, but it was awesome quality nail polish.  It lasted me for over two weeks when I used it with a base coat and a top coat – that's amazing!
3:
A red lip is so classic, but I rarely ever use it!  I get a little too nervous to try something so bold.  I used the "Fire" lip gloss, but Revlon carries lots of red lipsticks.
I actually ended up loving this look!  It was so much fun, and I felt really pretty wearing it!  I like that it's a gloss, because the shine adds a little bit of youth to the look: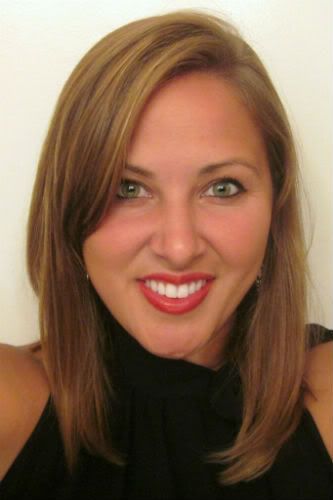 Make you're your eyes aren't too bold when you're wearing a red lip.  I used a neutral shadow on my eyes, and black liner and mascara.
4:
This is one of my favorite fancy look!  I will be devoting a whole other post to how to do an awesome smokey eye!  I used the "bombshell" eye pallet for this smokey eye.  My only complaint is that I would love for the darkest color to be even darker for a night out.  Again, since the eyes are the focus in this look, make sure you keep your lips more neutral.
The color stayed on beautifully and made me feel great!
So – what are YOU going to do to get out of your make-up rut?  Did I inspire you to try something different with your make-up this week?   You can join the movement of self expression through the Revlon Expression Experiment Facebook app.  You can post your own expressions there!
What is YOUR favorite way to bust out of a make-up rut?
Pin It
Related posts: