This post brought to you by Miracle-Gro. All opinions are 100% mine.
I'm not sure if it's the nesting, the new home ownership excitement, or the springtime, but I have a sudden urge to turn my "black thumb" into a green thumb!  My mom has always been great at gardening, and it really stumps me to think about how I didn't inherit her talents in this area.
I figured if I tried to make a fun project out of it, maybe I would be inspired to be a better gardener.  SO – I came up with the idea of a DIY planter box:


It was really simple to make – it took less than 24 hours (which includes drying time for the paint overnight).  It's absolutely something you can make with little to no woodworking skills.  The beauty of this project is that it should not be perfect.  It should look rustic and beat-up, so it's really fun to make!!
I began by pulling out some old pallets, and making them into a box (with no base):
I didn't have the right size wood on hand for the base, so I got the lovely men at Home Depot to cut down some 1×3 boards for me. We made these the base of the planter:
I wanted to have a "top" (just for decorative purposes), and since our boards bowed out a little, we thought it would be easier to use wood glue to attach this 1×3 piece to the top of the sides of the box:
Next comes the really fun part: painting! I love this kind of painting because it's EASY. You don't have to worry about priming or perfection – just slop some paint on! I actually did this at night with very little light (yes the neighbors have realized I'm weird…) and it didn't matter that it wasn't done perfectly:
I let the paint dry overnight, and then I added a totally optional stencil to the top. I think it adds just the right amount of "cute" to the project!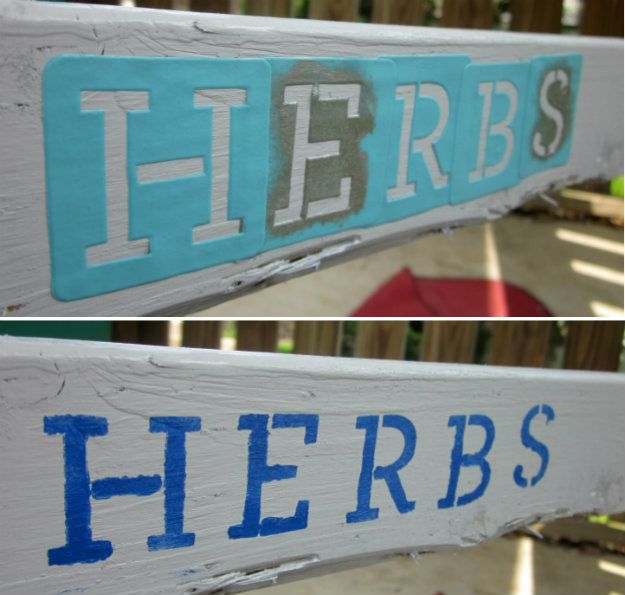 Once that dried, I had fun with my sander. I sanded with a medium-grit sandpaper, and went to town getting the paint to look "worn"
Love this!! I added some glaze too just to darken up the sanded down bits a little. No pictures of that part – I just added some with a rag, and then wiped it down after a minute with a wet cloth. Simple!
Now I had an adorable planter box, but I obviously needed to fill it. And while it would be nice if these cute things automatically made me a better gardener, it just wasn't going to happen that way. I knew I needed some help. Thankfully, the help came in the form of Miracle-Gro!
Do you see what this product is?? The Moisture Control Potting Mix helps with overwatering AND underwatering.  It's basically "black thumb proof".  I was seriously excited to see this because it's exactly what I need!!
I filled the planter halfway with the potting mix, then I added some basil, cilantro, and parsley.  I filled in around the plants with the rest of the potting mix.  Ta-da!
Just to make sure that these were going to thrive, I added some Shake'n Feed All Purpose Plant Food to the soil as well.  It feeds plants for 3 months – AKA the entire summer, so I don't have to worry about remembering to do it!  Hooray!
Are any of you new gardeners like me?  OR are you looking for some ideas on how to spruce up your outdoor spaces this summer?  Check out Miracle Gro's new project- appropriately called The Gro Project.
They also have a Pinterest board with so many fun garden projects you can try – I'm following them so I can continue to learn new things throughout the seasons – you should too!
Tell me your gardening stories!!  Do you consider yourself to have a green thumb?  Was it always that way?  
Like this post?  You'll also like:
2. DIY Cedar Planked Outdoor Wall
3. Navy & Yellow Summer Wreath Tutorial
5. DIY is a dirty job (keepin' it real)
Linking to:
Shabby Nest, Tatertots and Jello, Stories of A-Z, The 36th Avenue, Someday Crafts, Under the Table and Dreaming, Today's Creative Blog, The DIY Show-Off,   Shabby Chic Cottage,  Serenity Now, Not JUST a Housewife, Whipperberry
Pin It
Related posts: